Sam Farha known by his native people of Beirut, Lebanon as Ihsan Farha is a world renowned poker player that has relocated and currently calls the US home.  He is a player that has reached great achievements thus far in his poker career yet is still building onto his already solid skill set. He is a player that proves you do not always have to finish first to be considered a great poker player.
He currently only holds two World Series of Poker bracelets which he obtained in $2500 Pot Limit Omaha in 1996 and in $5000 Limit Omaha 8/b in 2006. His largest money win actually came from an event in which did not obtain the tournament title but came in second place resulting in 1.3million dollars. This however was a miraculous achievement as he fought back from a devastating loss on day two that left him with a serious short stack.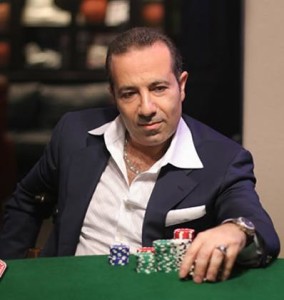 When a player can continue to produce positive and historical hand making progress like those consistently shown my Farha, he deserves nothing less than being considered as a top contender in the Poker world. To share his secrets, style, and masterful understanding of the game, he has been working towards publishing a book entitled "Luck is Not Enough". Most of the well known poker players are found within the world of Texas No Limit Hold 'em. Farha is an exception to this rule as he often chooses to engage in Omaha which is another variation of  poker for skilled players.
Despite his long road of bad beats and lack of titles, he has proven to be one of the best players in the world. The well known and high-end casino in Las Vegas known as Harrah's has selected Farha as their spokesman. When a casino that is amongst the best in the nation chooses you to be heir spokesperson to the public, you know consider it to be a great honor.
This is a man who may not be the first name you hear in poker rooms around the world, but he will definitely be on the list of great players. He has a lot of potential to grow as he is still a contender in all areas of the poker world. He has nowhere to go but up in a career in which he has already established himself and continues to hone his already solid skills. Farha is a man in which you will hear more and more about as they upcoming years pass.